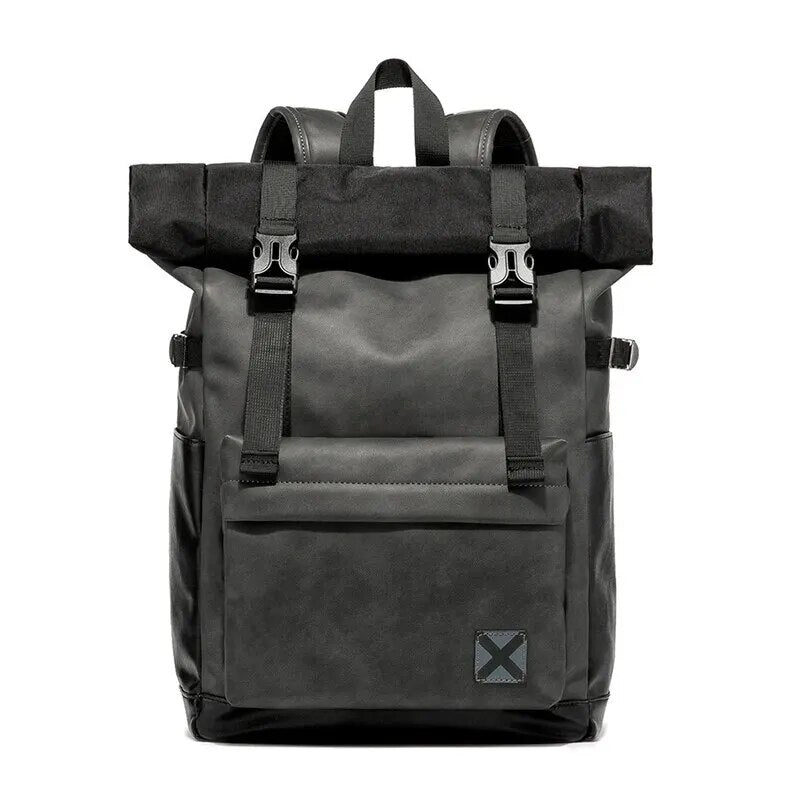 Faux Leather Waterproof Roll-top Backpack
Elevate your style and keep your essentials secure with our Faux Leather Waterproof Roll-Top Backpack in sleek black. This backpack is the perfect fusion of fashion and function, designed to meet your needs while making a striking fashion statement.
Constructed from high-quality PU faux leather, this backpack not only exudes elegance but is also exceptionally durable. The black color adds an air of sophistication, making it a versatile choice that complements a wide range of outfits, from casual to formal.
One of the standout features of this backpack is its waterproof roll-top design. With a simple roll and snap closure, it creates a waterproof seal, keeping your belongings safe and dry even in unpredictable weather conditions. Whether you're commuting to work, heading to class, or embarking on an outdoor adventure, this backpack has got you covered.
The spacious interior offers ample room to carry your daily essentials, from books and electronics to clothing and more. It's perfect for students, professionals, and travelers alike. The interior zippered pocket keeps your smaller items organized and easily accessible.
The adjustable shoulder straps provide comfort and versatility, allowing you to find the perfect fit for your body. Whether you prefer to wear it as a traditional backpack or sling it over one shoulder, this bag adapts to your needs.
The PU Faux Leather Waterproof Roll-Top Backpack in black combines style, durability, and functionality, making it an ideal choice for those who appreciate both fashion and practicality. Don't compromise on your style while on the go—choose a backpack that meets your needs and complements your look effortlessly. Elevate your everyday with this waterproof wonder.
Backpack details:
Dimensions: 28CM x 14CM x 41CM
Lining Material: Polyester
Main Material: PU faux leather
Closure Type: Zipper & Hasp
Carrying System: Resin Mesh
Capacity: 36-55 Litre
Shipping & Returns

Donations

Did you know 13 million kids in America won't have enough food to eat this weekend? More than a backpack is proud to support Blessings in a backpack. $1 from every backpack sold will go directly to this amazing charity and to help feed hungry American children. Learn more